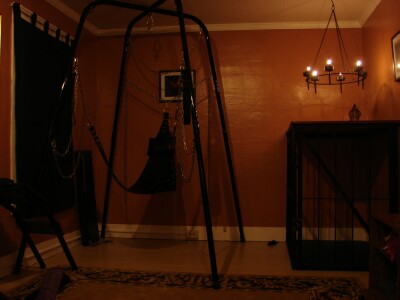 I have an affinity to wrought iron and this room consists of several of my black metal structures and all of my heavy steel bondage equipment.
The spyder suspension rig is perfect for supporting things like my hanging chain cage, a padded bondage board or even the leather sling (which is my favorite place to do strap on / pegging play with my favored slaves! Or perhaps My custom built steel cage will hold you securely while I attend to other things. <grin>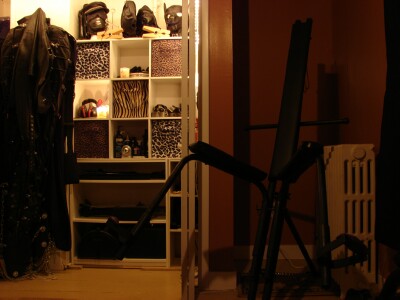 There is also a metal arch which is great for lashing someone down in either a bent over or bent backward position and the black metal geni-torture chair keeps you spread wide and oh so vulnerable for me.
The closet is filled with high quality  leather and steel dungeon gear: straight jackets, a sleep sack, leather hoods, steel shackels and so much more.
There's even a Sybian and a Venus 2000 for those that earn that level of favor with me.
(back to Facilities)