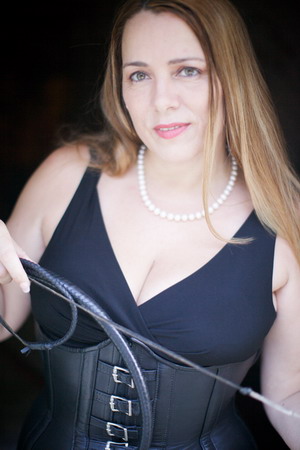 Located in Northwest Connecticut Mistress Suzanne is a very experienced professional dominant (pro dom, dominatrix, disciplinarian, mistress), and kink educator, that has been active in the BDSM lifestyle for nearly 2 decades.  She loves what she does and it shows!

Mz Suzanne's Bio
My kink journey has included my own experiences as a bottom, submissive / switch and masochist which I believe has given me a great deal of insight, making me a more compassionate & knowledgeable and intuitive Mistress / Domme.  I am also an excellent guide for nervous newcomers so you will be in good hands.
I feel that BDSM can be a vehicle to spiritual awakening and personal healing on several levels and I very much enjoy sharing the joy of BDSM play with others that wish to learn about and experience this wonderful expression of human sexuality.
I have wide array of varied interests in which I have gained vast experience. Many of my favorite BDSM & Kink scene activities are further outlined in the "My Services" section of this site.
You can also look for me on FetLife here.
(top)

My Kink / BDSM Philosophy
BDSM is much more than just kinky sex, and it is not simply about "power exchange" or the act of whipping or otherwise tormenting a sub. For me, my professional BDSM sessions are about erotic energy exchange and service to another human being. When I top someone, especially someone new, I want to build a connection with them and then I strive to find out what makes that person tick while tailoring the scene to our mutual needs and desires.
I love to feel a sense of shared joy when someone's dreams or fantasies are made real. It is amazing and wonderful for me to watch someone's eyes light up as we try an activity that they may have feared would be horrible, but instead they find is surprisingly delightful and pleasant. Taking someone further than they ever imagined but doing it safely & with a sense of trust & security is an ultimate joy for me.
(top)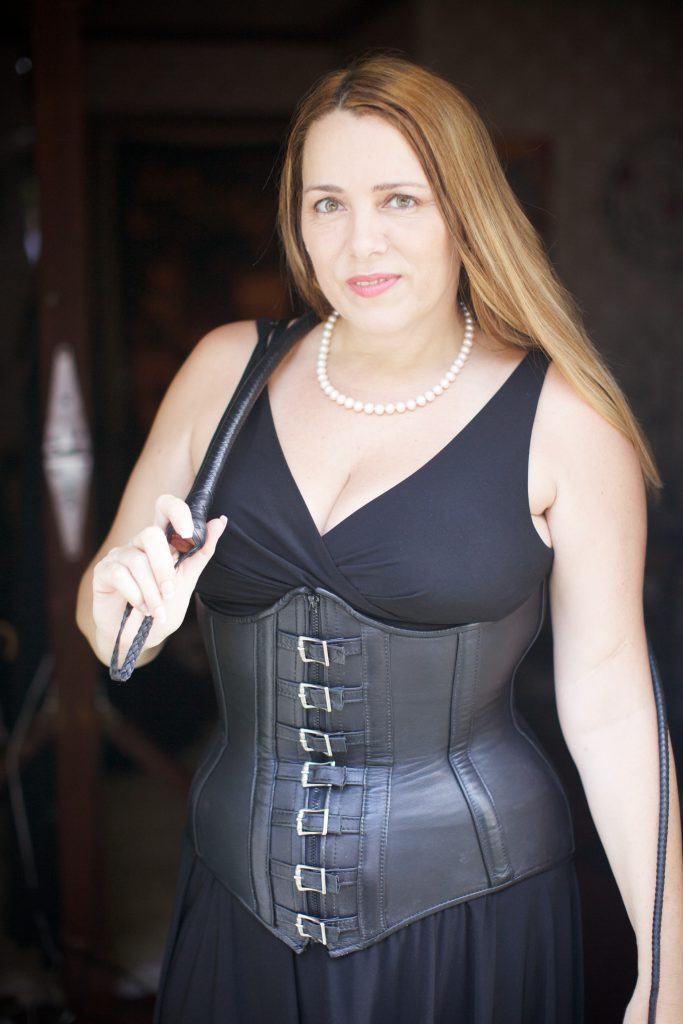 Mistress Suzanne's FAQs
For your convenience, and so that I can avoid responding to the same questions over and over again in email, I have decided to add this list of most frequently asked questions and my replies to them. Please read these carefully and if you don't find the information you seek after thoroughly checking the rest of my site you may email your questions to me at Mistress@SxySadist.com
Q: Is that really you in the pics? What's your ethnicity? How tall/ old/ are you? What's your shoe size etc.?
A: Yes that is really me in all the pics on my site. I was born in the UK so my nationality is British. My birthday is Jan 26th (I am an Aquarian) but when asked the year I generally say "I am old enough to know what I am doing and young enough to still have fun & look good doing it". Those that are privy to the actual number usually tell me that they are surprised since I have a very bubbly & energetic personality and certainly "don't act my age".
I am 5 foot 9 inches tall in my bare feet (and I often prefer to stay barefoot in sessions these days because I like the sheepskins in my dungeon), but putting on my 3 inch (size 9) heels or better heels in session puts me closer to 6 foot tall.
Q: How long have you been a Domme? How did you get started? Where did you work?
A: I began in the lifestyle as a sub in the early 90's. My Mistress at that time was a pro dom known as Lady Lori who ran an S&M club on Long Island called "The Castle". After about two years as a submissive and occasional co-top, she helped me learn the basics and the business side of it and I started working out of her dungeon. A few years later I moved to Mahopac for a few years and I started building my own following.  Later on I spent ten years in Poughkeepsie NY before buying my own place in the Litchfield Hills of Connecticut. I still consider myself a switch although I do not bottom much these days and then only with trusted friends.
Q: What do you enjoy most in a scene?
A: Well as romantic as it may sound, what I love most is making fantasies come true for my very special playmates. I screen the applications carefully to be sure that there are some common interests before I will set an appointment with a new sub. My attitude is "If I am not going to have fun… then the sub won't have fun either." Once I decide to meet someone I use the form to plan the scene around what things we are interested in and have in common. I enjoy a wide variety of activities but most of my faves are listed on the site under My Services.
Q: Is there any sex permitted in a scene?
A: (Laughing) People do actually ask that on a regular basis, and NO there is NO sex permitted in my sessions. OK, well actually I guess dildo training is a grey area, and can be considered sex from a legal stand point but I only engage in that activity with people I know very well – or wish to get to know well (wink).
I DO NOT get undressed, NOR do I let a sub touch me in any sexual way. There is NO oral worship allowed on my private areas and you can trust that I will NOT be doing that for you either.
Q: What do you like to do when you are not torturing people?
A: Hmmm, well although that is always high on my list of favorite activities.. I also have several other passions including: geocaching, gardening and caring for my rescued cats.
Q: Do you enjoy dominating with other Mistresses and is it better than dominating on your own?
A: I prefer one on one sessions for the most part. I find it easier to get into the scene when I have complete control over it and I can concentrate on my play partner's needs and responses.
Q: Do you enjoy clubs, parties, nightclubs? Do you attend such events or places, regularly?
A: I definitely love playing in public at BDSM clubs, events and private parties both as a Domme and with my Switch mate as a sub. As far as special events go, he and I have attended the Leather Retreat in PA three years in a row and Black Rose a couple of times which was a blast!! I try to get to Paddles in the city when I can but my schedule is pretty hectic and I don't get there as often as I would like. There is however, a local group in the Hudson Valley that sponsors play parties once or twice a month. Those are always a lot of fun.
Q: Do you ever play for free or just the fun of it rather than doing pay for play sessions? Are you looking for any domestic servants, personal slaves or live ins? And Do you have female slaves?
A: I can answer these in one shot. I play as often as I am physically able most weeks, but my schedule is insane!! I do all the work on my web sites myself, and I am forever taking college courses on things that interest me. I do pro sessions usually 4 or 5 days a week and then I go to the play parties on the weekend to have some fun with my friends and still try to make arrangements to get a trip to subspace myself when possible at least every other week. It is very relaxing for me and I need the stress relief.
I am NOT looking for any personal pets, subs, slaves, domestic help or boy toys at this time. I have a domestic partner that I live with and who also happens to be my favorite playmate.
I don't think most subs have any idea the kind of expenses Dommes incur and what it costs to stock a good dungeon. I love this lifestyle, but the money helps make it affordable to me, which helps keep me available to you. Simple, huh?
I am good at what I do, have probably somewhere near $30K invested in equipment & toys and I deserve what I ask for as "tribute" for my skill and expertise.
When I am playing for free, it is for my own enjoyment and that of my partner & dear friends, of which I have no shortage of volunteers. 🙂 I have several female friends that I enjoy playing with at the club I go to but I do not have any female slaves, nor do I invite them into my professional sessions to be shown off in front of clients.
(top)

Mz Suzanne's Wishlist  Thank you for asking…

Over the years I have been blessed to receive many wonderful & thoughtful gifts by some very dear subbies. I always feel very honoured & grateful for these generous and very much appreciated tokens of appreciation & esteem.
I have often been asked for suggestions on things that would please me the most so I have added this page to make it easier for people to choose items that I really need or enjoy. This page will be updated as from time to time so check back for new ideas. Thanks, as always, for your thoughtfulness & generosity. It is truly and sincerely touching.

With Love & kisses Suzanne

These are a few of my favorite things:
Amazon always works for me!  I am an avid Amazon fan and whether you bring me a gift card or shop from my wishlist, I am guaranteed to be a happy Mistress.
Pearls – I adore pearls! Freshwater, cultured, or natural in any color.
Fine Tea – Harney and Son's Earl Grey Supreme is a favorite of mine.
Wines -I really like sweet ones! Sauternes, ports and ice wines are always welcome!
Candles – Votives or jars –  Black Cherry is wonderful!! Also black leather scented if you can find it.  Mmm!
JT's Stockroom Wishlist –  My friend's over at JT's Stock room have let me put together an online wish list that is REALLY easy to use and they have some really AWESOME stuff! Take a peek!  Wish List

Other Gift Certificates I adore: