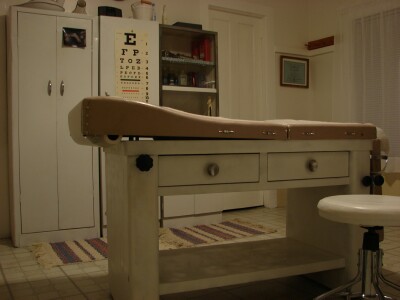 Wanna play Doctor, dear? Over the years I have obtained  some very interesting medical equipment and, while I loved my dungeon, somehow it just didn't feel right playing "Naughty Nurse Nasty" in it. Solution? I created a new room just for my "medical scenes".
It has the look and feel of a real exam room with medical books and posters on the wall & white metal cabinets holding all my evil tools of the trade. There are dozens of stainless steel clamps & forceps, several vaginal & anal speculums, a reflex hammer or two, a few Wartenburg wheels, 2 suction cupping sets, and several sets of urethral sounds.
I LOVE electrical toys and have a complete selection including, the Violet wand, the TENs unit, the Folsom PSG-Max unit the new Hot Boxx and lots of lovely wicked attachments. I even have the remote controlled electro torture device by Erostek so I can zap you with the push of a little button from across the room, and when all else fails to get your attention I bring out my stun gun!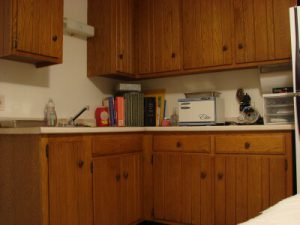 I have a Venus 2000 for extended tease & denial sessions, bandage material and large rolls of stretch plastic wrap for mummification scenes, a professional quality endoscope, and an operational vintage 1920's sterilizer.
Needle play is one of my favorite Dr. duties so I of course have 100s of new sterile needles on hand, several extremely sharp scalpel blades for those brave enough to try cutting with me, a miniature cauterizing tool for branding, and sutures just in case I need to stitch you back up.
There is so much more to list but you get the idea.
This room consists of:
-A real OB / Gyn table w/ bondage points
-A wide array of exam instruments including speculums, stethoscopes, electrical toys etc.
-Cabinets filled with lots of scary *medical supplies like catheters, needles, suture kits, saline etc.
*Please note some medical supplies may require additional tribute for a restockig fee. Please be sure to inquire as to your preferences.

Some of what may happen in here could include:
Basic Physical Examination
Castration Fantasies & Infibulation
Catheterization
Chastity Devices
Dental & Oral Exams
Electrical Testing & Neural Stimulation
Hydro-therapy, Enemas & Colonics
Injections & Needle Play
Light & Sound Therapy
Medical Restraints & Braces
Prostate Exam & Anal Dilation
Saline Scrotal Infusion
Suction Cupping
Surgery (mock) & Cuttings
Suturing & Surgical Stapling
Urethral Dilation & Sounding

I also have a full website dedicated to medical play : Nurse Nasty.  Much of the info on it is still correct however I no longer offer bladder irrigation or enema play, and any anal insertion play would require you to arrive already prepped for your procedure.
(back to Facilities)