Sorry I have been slacking just a bit on blog posts … It has been a fairly hectic and emotional couple time for me. Anyone that knows me,  knows that I love my cats like most people love their kids. And I have a lot of fur-kids but that doesn't make each one less special or loved and when I lose one it is extremely painful.  This month has been the worst I have had in many years.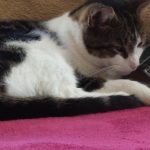 It started with losing my Buster about a month ago.  I found him on the front porch gasping for air.  I rushed him to the ER and told them he had seemed fine at breakfast but after several tests and an Xray they determined that he was experiencing congestive heart failure and there was nothing that could be done so I had to make the only humane decision possible and let him go.  He was maybe 5 years old but they said there was really no way of knowing something like this would happen.  Buster was a problem child on so many levels but I still loved him very much and he is greatly missed.  (At least by me .. not so much by Chatty) 🙂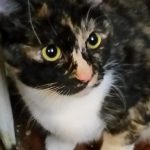 Then one of my fostered kitties completely vanished not long ago and I am heartbroken not knowing if she is alive or dead or trapped somewhere. I searched the neighborhood for several days, posted flyers all over and posted her pics to local FB groups. She had a collar with a tag as well as a micro chip. She wasn't really fond of outdoors and at 13.5 lbs this little chubber rarely missed a meal so it isn't like her to run off. I really wish I knew what happened to her … not having closure truly sucks.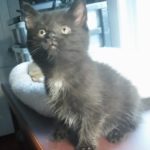 Then around the same time that Vic disappeared my newest addition, a sweet 8 week old kitten Boudicat got the tip of her tail injured while playing with her much older "brother" Prince Eddie. After an emergency room visit and three weeks of drama, screeching and bandage changes at the vet, they determined the best course of action would be to completely amputate her poor little tail! They sent me to a specialist almost an hour away in Middletown to have the surgery done. All told so far this fiasco has cost nearly $2600.00 – or basically an arm a leg AND a tail! 🙁 But, she is recovering pretty well now thankfully. In another week or so the stitched on her stump will finally come out, the cone of shame will come off and I can stop worrying about her as much.
On top of my heartbreaking kitty drama, it has also been determined that my sweetheart & personal slave has an 80% blockage in his heart and he is scheduled for a double by pass in a few weeks time. I am naturally concerned about him as well but I am pretty sure that in the end this will be a really good thing… it'll be like sending him out to be refurbished and he'll come back to me good as new and I will once again have his whole heart lovingly devoted to getting better.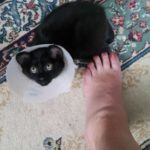 On top of all that I had to race to NY yesterday to help my godchild who was having a bit of an emotional crisis and at some point in the process I managed to misstep on a walkway stone and sprained my ankle pretty well. It is swollen and beginning to turn lovely colors so I suspect I will have to give up high heel boots for a couple of weeks. Oy!
All in all .. just some of life's ups and downs .. but I really wish my Victortia would come home. But I also really need to send some special love and heartfelt appreciation to two of my sweethearts that have sent some emergency funding to help with the influx of veterinarian bills.  No names needed because they know who they are and I can't even say how much that means to me.  Huge hugs!!